Roadway Safety Barricade Description
Roadway Safety Barricade (also referred to as crowd control barricades, with some versions called a french barrier or bike rack in the USA), is commonly used at many public events. security for special events, parades, festivals, concerts, and sporting events. Roadway Safety Barricade is ideal where high quality, attractive and durable crowd control is required. Built to proven design standards, the Crowd barricade is built from high-quality carbon steel and is hot-dipped galvanized inside and out to ensure long-term weather resistance.
| | |
| --- | --- |
| Length | 2.0m-2.5m or customized |
| Height | 1.0m-1.5m or customized |
| Frame Tube | 20mm.25mm.32mm.40mm.42mm.48mm O.D |
| Vertical Tube | 14mm, 16mm, 20mm, 25mm O.D |
| Finished | Hot dipped galvanized or hot-dipped galvanized with PVC coated |
| Frame Size | 2.1 x 1.1m, 2.4 x 1.2m, or as your requirement |
| Spacing | 60mm, 100mm, 190mm, 200mm |
| Feet | Detached, Flat, Bridge Type |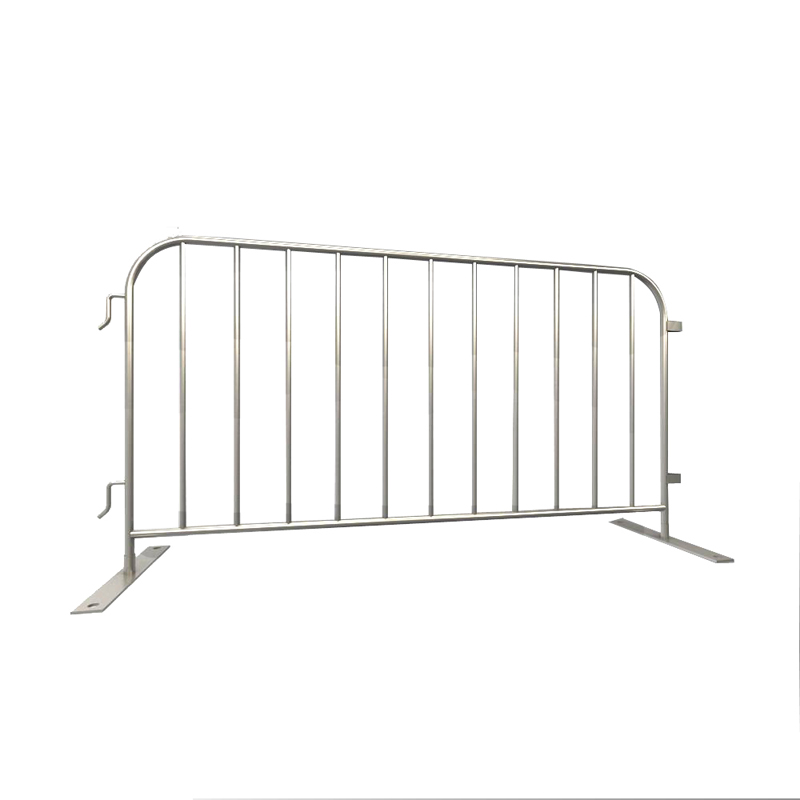 Roadway Safety Barricade frames are made from durable 1-1/2″ OD 16 gauge steel framing, while uprights are made from 1/2″ OD 16 gauge steel tubing. Uprights are fully inserted into the frame before welding, providing extraordinary strength.
Choose from two foot systems: a detachable foot(bridge and flat)or a fixed foot The feet are removable which makes transportation and storage much easier and more efficient.
Barricade interlock using the industry standard hook and half-loop fastening system provides a union that prevents a single barricade from being removed from a continuous line of barricades.
The barriers are light and easy to handle, while being strong and robust at the same time.
Roadway Safety Barricade with flat-style feet, is the ideal choice at special events or venues that require funneling crowds or traffic in parallel lines. The flat-foot design minimizes the tripping hazard and vehicle tires roll easily over the foot without damage to the barricade. The flat foot distributes weight evenly and rubber grommets provide added protection for sensitive floors. Two holes in each foot allows it to be anchored to the ground.
Roadway Safety Barricade with bridge-style feet, is the best selling crowd control barricade on the market! The bridge-foot design provides maximum stability for the barricade, thus making the product an ideal choice for use on grass, soft or uneven surfaces. The Bridge Foot provides the best resistance to pushing by crowds – so if you are planning a parade, rally or concert,choose this for your sensitive crowd control needs.
Roadway Safety Barricade Detail Images
Roadway Safety Barricade Application
Security and Safety
Traffic & Pedestrian Control
Special Events
Concerts
Stadiums/Arenas/Convention Centers
Fairs/Carnivals/Festivals
Parades/Rallies
Packing and Delivery
Fence panels are wrapped with plastic band then packed in a pallet;
Accessories are packed in plastic bags then in cartons;
Package can also be on customers' request;