Hot dipped galvanized temporary fence for queue barrier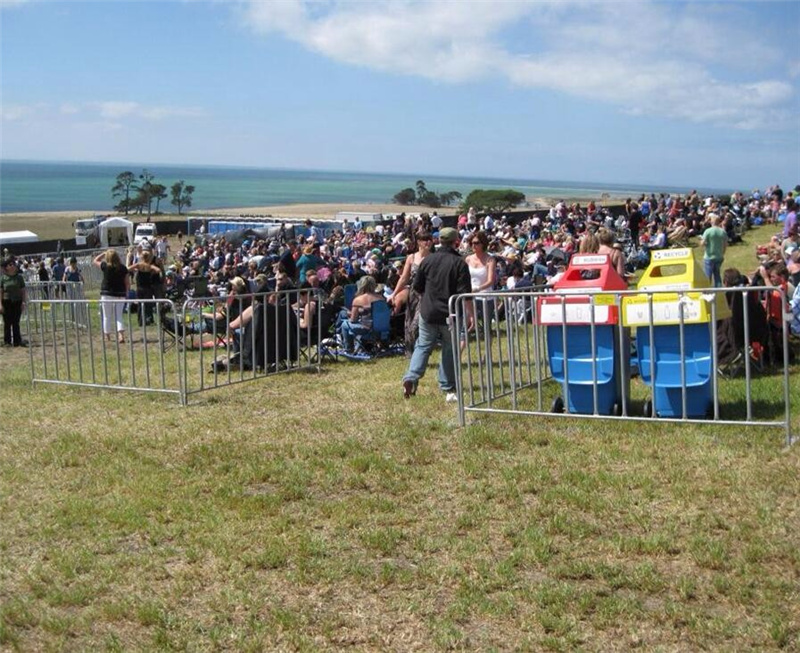 1. Queue Barrier Description
Queue barrier (also referred to as crowd control barricades or pedestrian barricades is commonly used at many public events. They are frequently visible at sporting events, parades, political rallies, demonstrations, and outdoor festivals. Event organizers, venue managers, and security personnel use barricades as part of their crowd management planning.
| | |
| --- | --- |
| Material | Low carbon steel |
| Surface treatment | Hot dipped galvanized or powder coated |
| Height | 1m, 1.1m, 1.2m, etc. |
| Width | 2m, 2.1m, 2.5m, etc. |
| Frame tube O.D | 25mm, 32mm, 38mm, 40mm |
| Infill picket (tube) O.D | 12mm, 16mm, 20mm |
| Infill picket (round bar) diameter | 8mm, 12mm |
| Feet type | Fixed or movable |
| Feet shape | flat, bridge, or cross feet |
| Accessary | Eye&hook, lugs; pins, or screws |
Various shapes and types for your option, we can also customize according to your drawing.
Type 1: Queue Barrier With Flat Feet
Height: 1.1m
Width: 2.1m, 2.5m
Feet: movable flat feet
Optional LOGO board
Type 2: Queue Barrier With Cross Bar
Height: 1.1m, 1.2m
Width: 2.1m, 2.5m
Feet: fixed cross feet
Type 3: Queue Barrier With Bridge Feet
Height: 1.1m, 1.2m
Width: 2.1m, 2.5m
Feet: bridge feet
Type 4: Queue Barrier With PVC Chain Link Mesh
Height: 1.1m,
Width: 2.1m, 2.5m
Feet: flat feet
Type 5: Queue Barrier 20x20mm or 25x25mm square tube with flat feet
Height: 1.17m,
Width: 2.9m
Feet: flat feet
Main Features
Simple structure in linear type ,easy in installation and maintenance
Renewable resource, could be used for several years
All welding slag are cleared to insure fence smooth surface
Whole panel (welded mesh panel and frame tube) will be hot dipped galvanized or powder coated after welding
Customized panel shape or specification is also available
Exclusive queue barrier drawing for customer when order is confirmed
Packing & Delivery
Before packing: Barrier/barricade panels will be fully dried and tested before packing.
Package: Panels will be stacked on a steel pallet first, and then use nylon belt to fasten them.
Container loading: Whole pallet will be loaded into container by forklift. And there are some panels in loose on top and side of the container.
Applications
The queue barrier acts as a physical and psychological barrier used to demarcate "no access" zones and to designate space for lines. They are also used by riot police to control large gatherings.
Crowd control barricades are most commonly made of steel. Barriers are most effective when they interlock, being attached to each other in a line via hooks at the side of each barricade. When barricades are interlocked, security personnel can create impenetrable lines, because such lines of barriers cannot easily be toppled over.
We keep in contact with our customers after they receive our barriers.
Answer their questions during installation or application, also listen to their advice and suggestion towards our product.
Below are the barricade usage photos from our Australia, New Zealand, Germany and America customers..