What is the Raised Bed Garden?
Raised garden beds create patio and home yard accessible, and are a perfect choice for planting, weed control and harvest. If your home yard disorderly and unsystematic, and have time to make a neat garden, this garden boxes is necessary. It is made of hot dipped galvanized steel, corrugated structure, easier to carry and assemble. The raised garden bed keeps pathway weeds into rich and soft soil, supply good drainage, and prevent the pests and small animals destroying the garden. Also this metal planter box can prevent the garden soil from being eroded or washed away during heavy rains.
Organic raised bed garden can also be called raised vegetable beds, raised bed garden kit, Steel container box plant, garden planter box, raised garden grow bed, herb garden, raised vegetable garden, metal planter box, veggie garden bed, metal planter, planting container, garden edging, and garden boxes, etc.
Why do you need the planter box fencing?
 Raised garden beds are made of galvanized steel,galvalume steel, there are square, rectangular, round, oval, triangle shapes for your choices. Also it can be powder coated colors, such as yellow, cream/beige, red, green, black, and others.Because of its anti-rust,anti-splinter,light weight,strong,elegant modern design, the raised garden bed is so popular in garden, backyard, sand or any place with poor soil conditions.
      √  Grow your own flowers, vegetables or create a herb garden.
      √  If you are a new gardener, the garden fence is so necessary.
      √  Make your garden more feature, neat and beautiful.
      √  Great for vegetables and flowers with deep roots.
      √  Reasonable and practical use most areas.
      √  Enjoy your family time.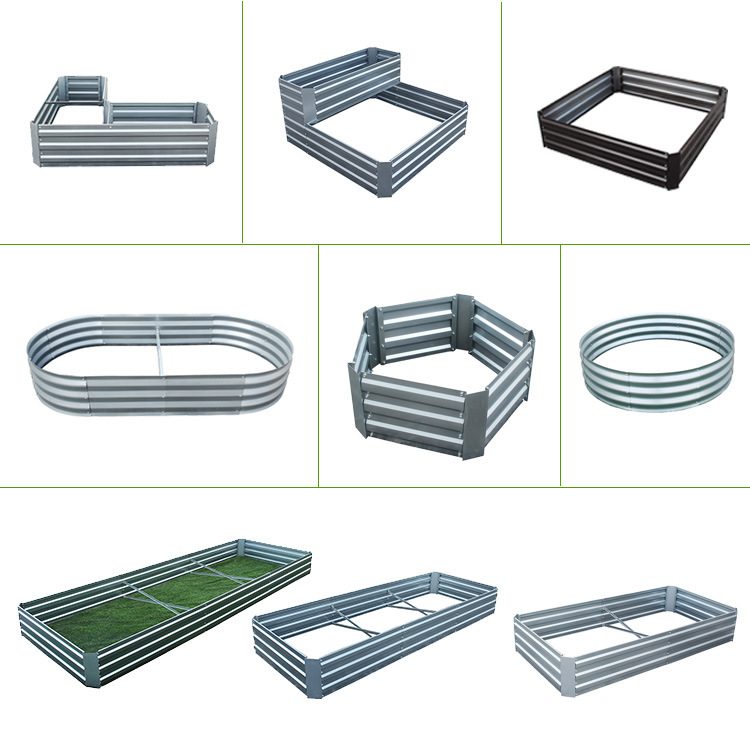 1. DBRB001: Rectangle Planter Box Fencing - Factory Wholesale For Flower Planter and Vegetable
The material of planter box fencing usually is 0.3mm or 0.6mm ( 0.3mm wall board and 0.6mm corner/0.6mm wall board and 1.0mm corner) hot dipped galvanized corrugated steel plate, zinc amount 120g/m², then powder coated colors as your request.It is composed of wall board, corners, screws, washers and nuts. Especially, we pay attention of its edge,which should be rolled up to prevent cut for kids.
ITEM No.
SHAPE
DESCRIPTION (L x W x H) mm
1
Square
600 x 600 x 300
2
Square
600 x 600 x 450
3
Square
900 x 900 x 300
4
Square
900 x 900 x 450
5
Square
900 x 900 x 600
6
Rectangular
1200 x 900 x 300
7
Rectangular
1200 x 900 x 450
8
Rectangular
1200 x 900 x 600
9
Rectangular
1800 x 900 x 300
10
Rectangular
1800 x 900 x 450
11
Rectangular
1800 x 900 x 600
12
Rectangular
2000 x 900 x 300
……
…………
For More Sizes, Just Contact Us.
2. DBRB002: Galvanized Steel Oval Raised Garden Bed - Outdoor Garden Planter Factory Wholesale
No.
SHAPE
DESCRIPTION ( L x W x H)
1
Oval
1600 x 820 x 400
2
Oval
1600 x 820 x 820
3
Oval
2100 x 820 x 400
4
Oval
2600 x 900 x 410
3. DBRB003: Home Triangle Raised Garden Fence Planter
4. DBRB004: Outdoor Galvanized Round Vegetable Raised Garden Beds Metal Planter Box for Vegetables Flowers Herb
No.
SHAPE

DESCRIPTION (L x W x H)
1
Round
Dia 900 x H400
2
Round
Dia 900 x H820
3
Round
Dia 1200 x H400
4
Round
Dia 1200 x H820
Raised Garden Bed Features
      √  Durable Hot dipped galvanized steel material – Corrosion and Rust Resistance
      √  Just a screw driver tool help you assemble easily
      √  Protect your garden pot plants affected from weeds, pests and pets
      √  Corrugated types of material make it more stable, stronger, and withstand harsh weather or sun.
      √  40-60cm high walls supply a better breath, and pour out fully for for vegetables, strawberries, succulents, fruits, flowers and herbs, The roots can grow up more healthier.
      √  Space-intensive produces high yields
      √  Lightweight raised garden bed can be powder-coated colors, such as gray, green, red, black, etc.
      √  We have always placed great emphasis on quality control to ensure that excellent quality level is maintained. Three Year Quality Guarantee.
      √  No rot, splinter, crack down under weathering like other material ones
      √  Sample free
      √  No chemicals into the garden fence ground instead of wood or plastic fence box.
      √  More than 8 sizes for your choices; Other shapes, such as round, oval, modular ones are availabe
      √  100% Recycable Material Recylable
Raised Garden Bed - Easy To Build
Raised Garden Beds - Wall Planter Packing
      √  For Rectangular and Square Raised Garden Beds/kits: per set in per carton, 4 sets in a master carton. 
      √  For Round and Oval: Plastic film covered,  Per set in per carton, packing belt outside carton box