What Is Metal Fence Panels
Metal fence panels are also known as steel picket fence, ornamental steel fences. The metal fence is manufactured using the highest-strength steel pickets and rails and is available in a wide range of sizes and styles.
Popular in the US market and AU market, metal fence panels can improve the appearance and increase the value of your property. They do not corrode and rust. A metal fence gives you a great look and the ultimate combination of strength, beauty, and durability. There are many types of steel fences for your requirements and different picket for your choice.
Metal Fence Panels Description
Heavy Duty Metal fence is a beautiful addition to any home or business. DB Fencing offers a large selection of styles and colors allowing you to easily find your perfect fence. Steel fence installation types we install include residential, commercial, estate gates, and pool fences. The extensive multi-layered coating process of the steel ensures that your fence lasts for years without corrosion. This metal fence also uses advanced welding techniques to create a virtually seamless finish.
All of the metal fence panels, posts, mounting hardware, and gates are dipped in electro coat rust inhibitor after final assembly to prevent corrosion and are then powder coated for a premium finished product. A standard metal fence is in stock and shipping is more affordable than you think! Wrought iron fencing systems will not only beef up the security of your residential or commercial property but will improve the appearance as well.
| | |
| --- | --- |
| Width | 2400mm, 2500mm, 3000mm |
| Height | 1200mm, 1400mm, 1500mm, 1800mm, 2100mm |
| Horizontal rails | 40x40x1.6mm, 50x50x1.6mm and 2 or 3 tubes |
| Vertical rails | 20x20x1.2mm, 25x25x1.2mm |
| Post tall | 2700mm, 2900mm, 3000mm |
| Post tube | 60x60mm, 65x65mm, 80x80mm, 100x100mm |
| Material | Hot-dipped Galvanized Steel tube |
| Surface Treatment | Galvanized before powder coating |
| Colour | Black (or according to customer's requirement) |
| Feature | Maintenance-free, Rust-proof, solid structure, Eco friendly |
| Installation mode | Assembling(without welding) |
| Accessory | Security bolt&nuts,rain hat,bracket |
| Life | 10-15 Years |
1. Popular Metal Fence Panels
2. Metal Fence Panels Quality Control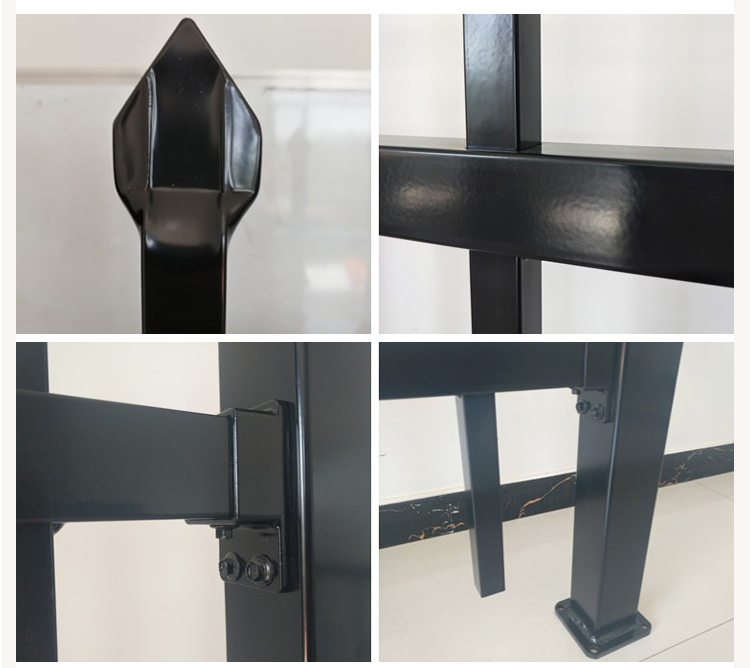 3. Metal Fence Panels Installation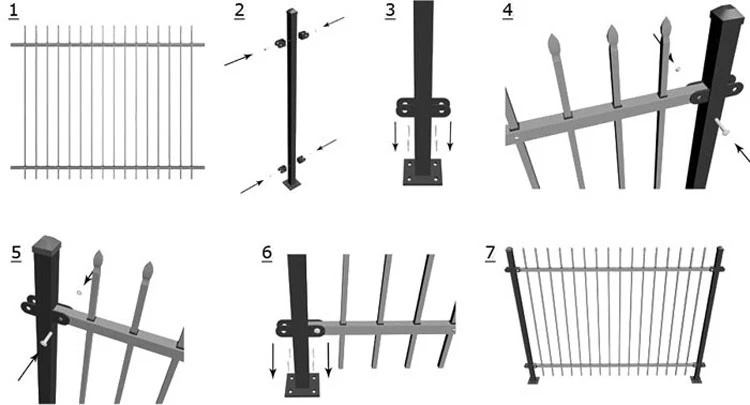 Advantage
Quick installation, less labor.
The structure is beautiful and good harmony with the environment.
Bright colors, smooth surface, high tensile strength and toughness.
Corrosion-resistant, anti-static, non-fading, anti-aging.
No embitterment and cracking.
Application
Widely used in villages, communities, gardens, schools, factories and other flower beds, lawns, industrial and mining enterprises, financial institutions, sports stadiums, convention centers, squares, roads, balconies, residential use, its flowing lines, simple and beautiful and full of rich modern residential sensual, garden Light, villas era of high-grade. Simple installation, easy maintenance, easy to clean, affordable, eliminating maintenance.